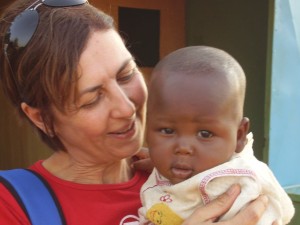 Every child, in any part of the world, has the right to have a family, the care and the love they need to grow.
If this doesn't happen, because the family doesn't exist or, if it exists, it can't take care of the children, we resort to international adoption.
To ensure that international adoption is respectful of the principle of the best interests of the child, it must be the last answer, and the only possible, to a situation of abandonment of the child. Only after searching any other solutions in the origin country, we resort to international adoption.
It's the principle of subsidiarity that, as mentioned above, leads us in international adoptions. We can (and we must) prevent abandonment, through concrete actions, projects and interventions that may help the origin families to give a future to their children.
However, when this is not possible, we can't let children be abandoned, without a future: living in an institute or on the street, a child will have no life and no future.
Shalom Movement intervenes to protect children in need in many countries and also international adoptions are considered another form of cooperation and collaboration with the countries of origin of the children.
These are the reasons why we carry out international adoptions. And this is why, in 2001, the association chose to begin, in addition to, and as a residual function, this additional form of cooperation, to protect abandoned children.
Shalom Movement is an organization, which is authorized to carry out procedures for adoptions of foreign children by the Resolution of the Commission for International Adoptions n.88/2000/AE/AUT-8 maggio 2001.