From suffering to solidarity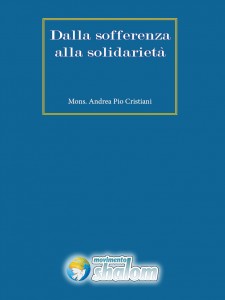 A book written by don Andrea Cristiani and dedicated to Roberta Tomasi, Matteo's mother, passed away after the draft of the book. To her, who was able to turn the grief for the premature loss of her son into sharing and solidarity with the poorest of the earth.
The book, along with a reflection on the theology of grief, gathers up the story of three families, which have been able to turn the suffering into sharing and solidarity, and the initial despair for the physical lack of their loved ones into meaningful relationships. In this scenario, Shalom Movement, through its values and mission, stands as a means, an instrument, a common home where to make sense of disadvantage, torment, anguish and suffering.
For sale upon request to shalom@movimento-shalom.org at the price of  8,00 euro.
The photographic volumes
Those photographic books are dedicated to African Anglophone Countries where the Shalom Movement cooperates through the implementation of self sustainable projects. The pictures and the volume is edited by Pino Bertelli, doctor of anything, journalist, street photographer, filmmaker, film and photography critic; Bertelli was born in a factory town in Tuscany, between "The Outlaw" and "Open City".
His works are built on issues of diversity, marginalization, hospitality, migration, freedom, love of man for man as a possible utopia. It is one of the central points of the radical critique of italian neo-Situationist.
His photographic archive is deposited at the University of Parma. An anthology of his photographs are filed at the Uffizi Gallery in Florence. One of his work (against all wars) was exhibited at Art Exhibition Venice Biennale (2011). It is a member of Reporters sans frontières.
Important people such as Oliviero Toscani, Gino Paoli, Father Andrea Cristiani (founder of the Movement Shalom Onlus) enhanced the value of those books.
The intent is to reveal the work of the "sowers of peace Shalom" by the power of images, it is not pity, but it is the hope and attention to unequal disparities that characterize our small planet. The smile, the dignity, the simplicity, the look, the hug that envelops you.
For sale upon request to shalom@movimento-shalom.org at the price of 20,00 euro.
Shalom. The unexpected son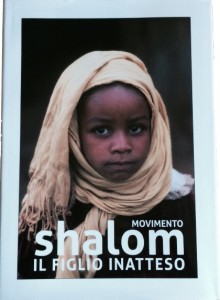 "The unexpected son" photographic book is published for the 40th anniversary of the Movement Shalom, organization that has became like a son to Don Andrea Christiani. Images take the place of words and explain the central philosophy of solidarity and of the cooperation promoted by the Movement Shalom Onlus since 1974. The pictures and the volume are edited by Pino Bertelli.
For sale upon request to shalom@movimento-shalom.org at the price of 20,00 euro.